ANALISIS NILAI-NILAI SOSIAL DALAM KUMPULAN CERITA RAKYAT BANGKA BELITUNG
Mulyati Rozie

Pendidikan Bahasa dan Satra Indonesia FKIP Universita Muhammadiyah Palembang
Keywords:
nilai sosial, cerita rakyat;, social values, folklore
Abstract
Abstrak
Latar belakang penelitian ini untuk memberikan pemahaman terhadap nilai-nilai sosial yang ada dalam kumpulan Cerita Rakyat Bangka Belitung kepada pembaca agar dijadikan rujukan dan mengenalkan kembali cerita rakyat di masa modern ini kepada pembaca. Masalah dalam penelitian ini adalah nilai-nilai sosial apa saja yang terkandung dalam kumpulan cerita rakyat Bangka Belitung? Penelitian ini bertujuan untuk mengetahui dan mendeskripsikan nilai-nilai sosial yang terkandung dalam kumpulan cerita rakyat Bangka Belitung. Metode yang digunakan dalam penelitian ini adalah metode deskriptif kualitatif adalah metode penelitian yang bertujuan untuk menggambarkan secara utuh dan mendalam tentang realitas sosial dan berbagai fenomena yang terjadi dimasyarakat yang menjadi subjek penelitian sehingga tergambarkan ciri, karakter, sifat, dan model dari fenomena tersebut. Pendekatan yang digunakan adalah pendekatan sosiologi sastra, sedangkan teknik analisis data menggunakan teknik analisis karya. Hasil penelitian ini adalah: 1) Nilai kasih sayang yang terdiri dari: pengabdian, tolong menolong, kekeluargaan, kesetiaan, dan kepedulian. 2) Nilai tanggung jawab yang terdiri dari:rasa memiliki, disiplin, dan empati. 3) Nilai keserasian hidup yang terdiri dari: keadilan, toleransi, kerja sama, dan demokrasi. Buku Cerita Rakyat Bangka Belitung karya Maulana Syamsuri sangat baik untuk dibaca bagi masyarakat, karena di dalam buku ini banyak mengajarkan nilai-nilai sosial yang baik untuk dijadikan contoh.
Kata kunci : nilai sosial, cerita rakyat
Abstract
The background of this research is to provide an understanding of social values that are in the collection of the folklore of Bangka Belitung to the reader in order to be used as a reference and reintroduced the folklore in modern times is to the reader. Problems in the research of social values is what is contained in the collection of the folklore of Bangka Belitung? This research aims to know and describe the social values that are contained in the collection of the folklore of Bangka Belitung. The methods used in this research is descriptive qualitative method is a method of research that aims to describe completely and insightful about the social reality and the various phenomena that occurred dimasyarakat which became the subject of the research so that breakfast buffet characteristics, character, nature, and the model of the phenomenon. The approach used is the approach to the sociology of literature, while data analysis techniques using analytical techniques paper. The results of this study are as follows. 1) value of affectionate Devotion: (1), (2) Please help, (3), (4) familial loyalty, and (5) concern. 2) value of responsibility: (1) a sense of belonging, (2) discipline, and (3) empathy. 3) the value of the harmony of life: (1) justice, (2) (3) tolerance, cooperation, and (4) democracy. The book Folktales of Bangka Belitung works of Maulana Syamsuri very good to read for people, because in this book many teach social values are good to be used as an example.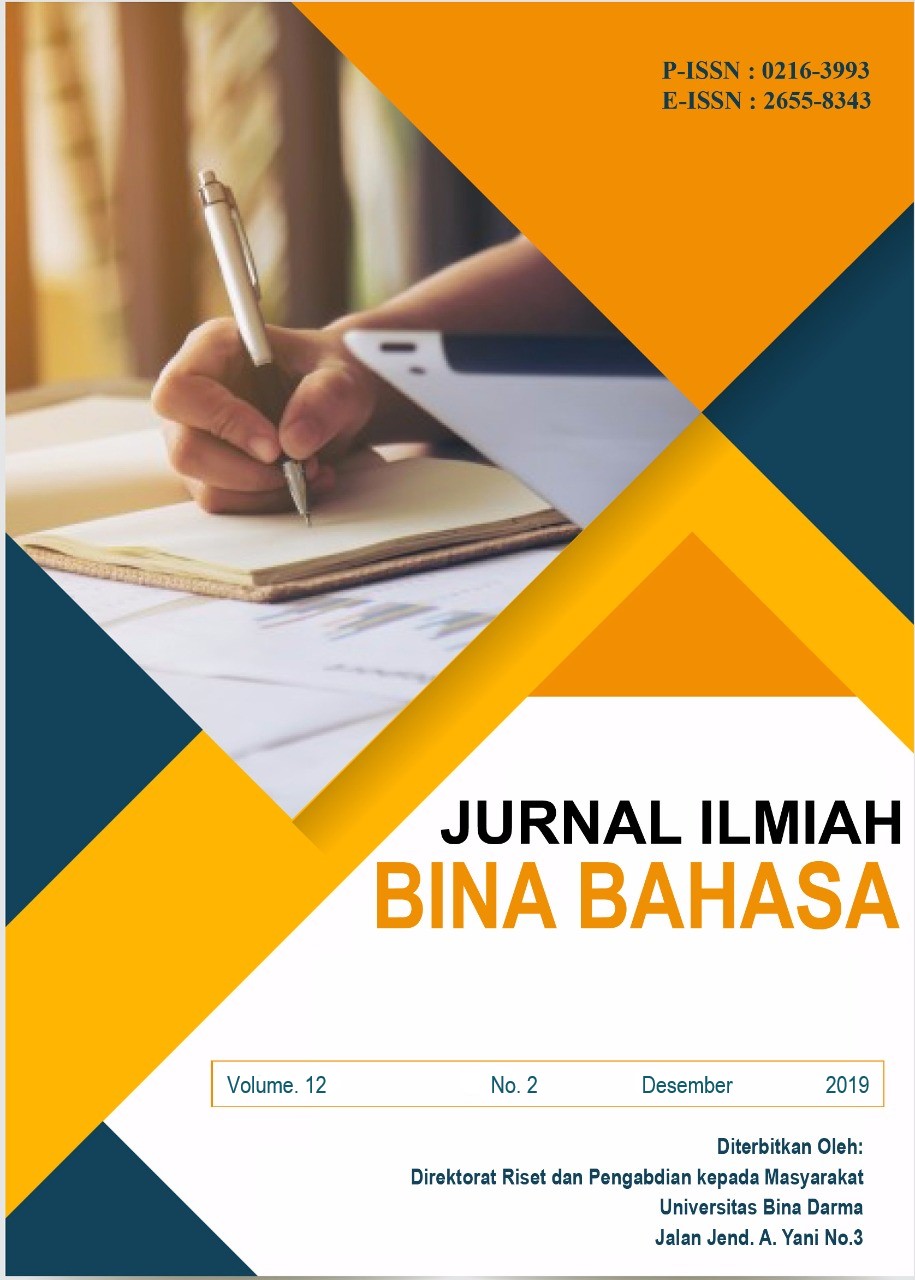 How to Cite
Rozie, M. (2019). ANALISIS NILAI-NILAI SOSIAL DALAM KUMPULAN CERITA RAKYAT BANGKA BELITUNG. Jurnal Ilmiah Bina Bahasa, 12(2), 27–38. https://doi.org/10.33557/binabahasa.v12i02.559
Abstract viewed = 3071 times
PDF : 4147 times

Jurnal Ilmiah Bina Bahasa by http://journal.binadarma.ac.id/index.php/binabahasa is licensed under a Creative Commons Attribution-ShareAlike 4.0 International License.