THE IMPLEMENTATION OF COLLABORATIVE TECHNIQUE IN TEACHING WRITING TO ENHANCE STUDENTS' SKILL IN WRITING ENGLISH TEXT
Ratih Inayah

IKIP Siliwangi
Keywords:
Collaborative Technique, Writing, Character development
Abstract
This study aims to seek insight into the use of Collaborative techniques in enhancing students' interest in writing English and analyzing students' character development in writing skills by applying Collaborative techniques. It employs qualitative descriptive research where the primary data analyzed is the development of students' writing interest and skill during the time of the implementation of the Collaborative Technique. In addition, as secondary data, the analyses of interview and classroom observations were tabulated as supporting primary data. Participants selected by using the Purposive Participant technique. A total of 60 regular students of the 2018 English Education Study Program at one of the private universities in Bandung were involved. The results of the study showed that collaborative technique is successful to increase students' interest in writing English and also help them to develop their own writing skill form before the implementation, during, and after the implementation of Collaborative technique. Thus it can be concluded that collaborative technique affects the process of writing as an individual and group. By doing collaborative techniques in writing English, students tend to be an enthusiast to make a better writing text in English.
References
Alwasilah, A. Chaedar. (2002). Pokoknya Kualitatif: Dasar-Dasar Merancang dan Melakukan Penelitian Kualitatif. Jakarta: Pustaka Jaya.

Brown, H. Douglas. (2002). Teaching by Principles: An Interactive Approach to Language Peadagogy. Second Edition. White Plains, NY: Pearson Education.

Brown, H.Douglas. (2002). Strategies for success: A Practical Guide to Learning English. White Plains, NY: Pearson Education.

Deveci, Tanju (2018). Student Perceptions on Collaborative Writing in a Project-based Course. Universal Journal of Educational Research 6(4): 721-732, 2018

Fraenkel, J. R., dan Wallen, N. (2008). How to Design and Evaluate Research in Education. New York: McGraw-Hill.

Halliday, M.A.K and Hasan, R (1976). Cohesion in English. London: Longman.

Harmer, Jeremy. (2004). How to teach writing. Edinburgh: Pearson Education Limited.

Leki, I. (1988) Academic Writing Exploring Processes and Strategies (2nd edn). Cambridge: CUP

Musthafa, B. 2008. Teaching English to Young Learners: Principles and Techniques . Bandung. UPI Press.

Nunan, D. (2003). Practice English Language Teaching. New York: Mc Graw-Hill.

Soraya, K. (2016). The Effectiveness of Collaborative Writing Strategy (CWS) in Writing Lesson Regarded to The Students' Creativity. Lingua Cultura, 10 (2). 63-67.

Talib, T & Cheung, Y.L(2017) Collaborative Writing in Classroom Instruction: A Synthesis of Recent Research. The English Teacher, 46(2), 43 - 57.

Thomson, P. (ed.) (2000) Patterns and Perspectives: Insights into EAP Writing Practice, Reading: CALS, University of Reading.

Williams, K. (1995) Developing Writing 5 : Writing Essays. Oxford: The Oxford Centre for Staff.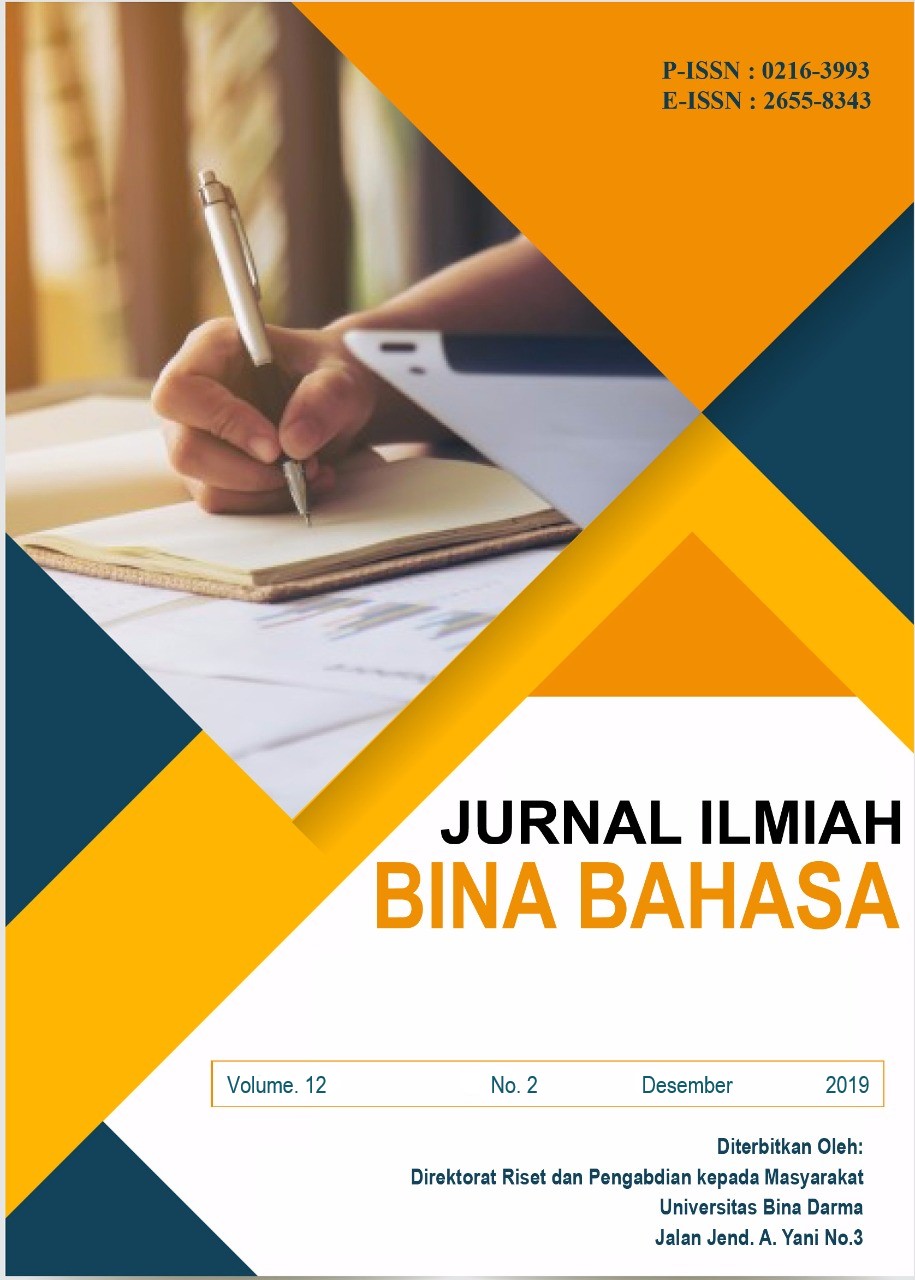 How to Cite
Inayah, R. (2019). THE IMPLEMENTATION OF COLLABORATIVE TECHNIQUE IN TEACHING WRITING TO ENHANCE STUDENTS' SKILL IN WRITING ENGLISH TEXT. Jurnal Ilmiah Bina Bahasa, 12(2), 49–55. https://doi.org/10.33557/binabahasa.v12i2.741
Abstract viewed = 585 times
PDF : 471 times

Jurnal Ilmiah Bina Bahasa by http://journal.binadarma.ac.id/index.php/binabahasa is licensed under a Creative Commons Attribution-ShareAlike 4.0 International License.