PENGEMBANGAN SENAM BINA DARMA UNTUK PEMBELAJARAN AKTIVITAS RITMIK PENDIDIKAN JASMANI, OLAHRAGA DAN KESEHATAN
Noviria Sukmawati

Universitas Bina Darma
Keywords:
Development, Gymnastics Bina Darma, Rhythmic Activities
Abstract
The purpose of this research is to improve the students' activeness in rhythmic gymnastics through gymnastics Bina Darma. Method used in this research is the development of research methods. the results of questionnaire responses charging towards teachers percentaced analyzed and found that 81% of teachers Penjasorkes gave a positive response and 19% gave a negative response, and the effectiveness of coaching gymnastics darma products received a positive response of students in learning rhythmic activity. Study physical education amounted to 81.33%, while the negative response by 18.66%. Conclusion The effectiveness of the product in the category gymnastics coaching darma very good. gymnastic is feasible and can be used to study physical education at school and in accordance with the standard school curriculum through the process of validation expert and student respondents. The results of this research have proven that coached gymnastics for use in teaching physical education at school.
References
Bambang, Sujiono. 2008. Metode Pengembangan fisik. Universitas Terbuka. Jakarta.
Rahyubi, Heri. 2012. Teori-teori Belajar dan aplIkasi Pembelajaran Motorik. Nusa Media. Bandung.
Rukmana. Anin. 2011. Penerapan Model Mace dan Benn melalui Musik Irama Cahcha dan Poco-Poco untuk Meningkatkan Aktivitas Ritmik. Jurnal Pendidian Dasar Volume 2 , No.1, Februari 2011.
Samsudin. 2008. Pembelajaran Pendidikan Jasmani Olahraga dan Kesehatan SMA/MAN. Litera Pernada Media Group. Jakarta.
Sugiyono. 2010. Metode Penelitian Pendidikan. Alfabeta. Bandung.
Sujiono, Yuliani Nuraini dan Bambang Sugiono. 2005. Menu Pembelajaran Anak Usia Dini. Citra Pendidikan. Jakarta.
42 Jurnal Ilmiah BINA EDUKASI Vol.10 No.1, Juni 2017: 33 - 42
Zulfikar. 2012. Permainan Pungut Puntung. [Online]. (Diakses http://zul-sucses. blogspot.com/2012/12/permainan-pungut-puntung.html, tanggal 9 Mei 2017).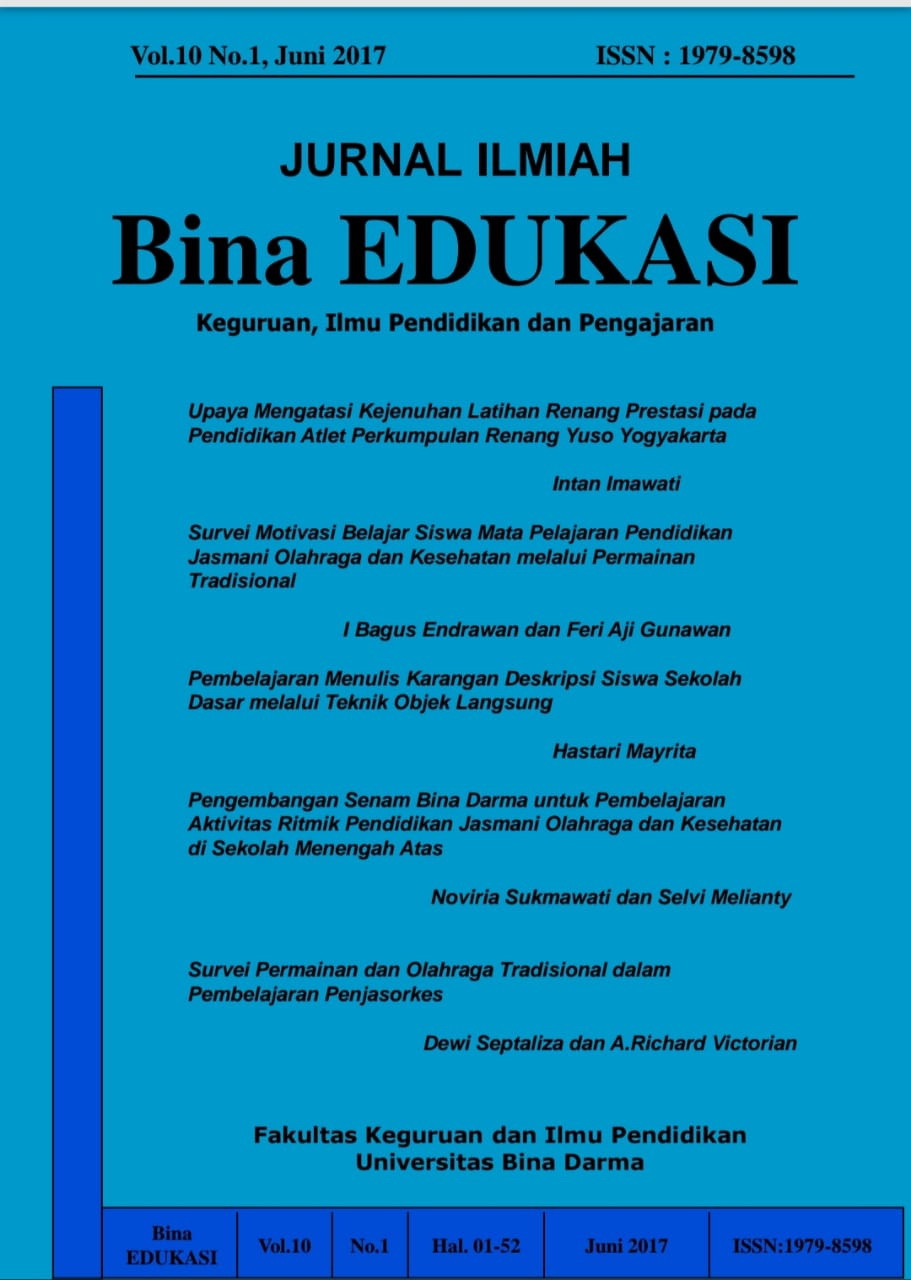 How to Cite
Sukmawati, N. (2019). PENGEMBANGAN SENAM BINA DARMA UNTUK PEMBELAJARAN AKTIVITAS RITMIK PENDIDIKAN JASMANI, OLAHRAGA DAN KESEHATAN. Jurnal Ilmiah Bina Edukasi, 10(1), 33-42. Retrieved from https://journal.binadarma.ac.id/index.php/jurnalbinaedukasi/article/view/197
Abstract viewed = 242 times
pdf : 7887 times

Jurnal Ilmiah Bina Edukasi oleh http://journal.binadarma.ac.id/index.php/jurnalbinaedukasi disebarluaskan di bawah Lisensi Creative Commons Atribusi 4.0 Internasional.