RADIO ADLIB : AS A PART OF COMMUNICATION STRATEGY IN DELIVERING MESSAGE BY RADIO ANNOUNCER
Rahma Santhi Zinaida

Universitas Bina Darma
Keywords:
Adlib, Radio, Announcer
Abstract
Adlib is one way to delivering message through radio advertising. As a broadcaster, they should have a good strategy to be able to convey the message of the product or event. Compared to ad spots, adlibs also has the power of brainstorming listener by message. Because it is not just repetition ad but the packaging of the message are always changing every time. In this research, only focused on the adlibs "team Rexona Men" in the Sore-Sore programe Momea FM Radio Palembang. Using qualitative research methods with a descriptive approach, the key informant are two radio DJ's in Sore-Sore programe and for the result, those two broadcasters can deliver messages adlibs well in accordance with the communication strategy such as good Improvisation, good Opening(preconditioning), using a related Backsound, focused on intonation and time. 
Adlibs merupakan salah satu cara untuk menyampaikan pesan melalui iklan di radio. Sebagai penyiar, mereka harus memiliki strategi yang baik untuk bisa menyampaikan pesan dari produk atau event. Dibandingkan spot iklan, adlibs juga memiliki kekuatan dalam brainstorming suatu pesan. Karena sifatnya yang tidak hanya pengulangan dan kemasan yang selalu berubah setiap waktu. Pada penelitian ini hanya terfokus pada adlibs "team rexona men" pada program Sore-Sore. Metode penelitiannya menggunakan kualitatif dengan pendekatan deskriptif dengan informan kunciya adalah dua orang penyiar radio momea di program Sore-Sore.dan hasilnya, penyiar dapat menyampaikan pesan adlibs dengan baik sesuai dengan strategi komunikasi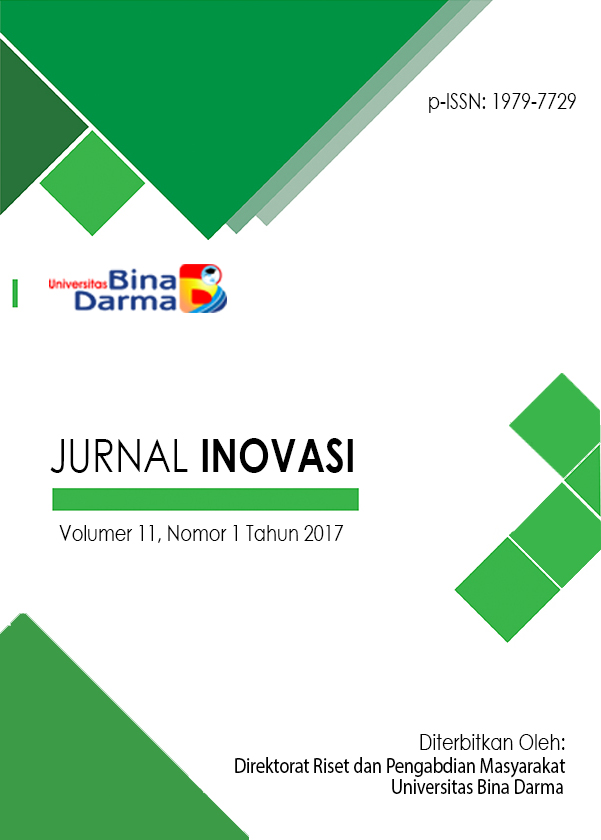 How to Cite
Zinaida, R. (2017). RADIO ADLIB : AS A PART OF COMMUNICATION STRATEGY IN DELIVERING MESSAGE BY RADIO ANNOUNCER. Jurnal Inovasi, 11(1), 31-40. Retrieved from https://journal.binadarma.ac.id/index.php/jurnalinovasi/article/view/651
Abstract viewed = 737 times
Download PDF : 143 times

This work is licensed under a Creative Commons Attribution 4.0 International License.