ANALISIS FAKTOR-FAKTOR YANG MEMPENGARUHI PERILAKU CYBERLOAFING PADA PEGAWAI NEGERI DINAS PEKERJAAN UMUM KOTA PALEMBANG
Dwi Hurriyati

Universitas Bina Darma
Keywords:
Perilaku Cyberloafing, Pegawai, Analisa
Abstract
Tujuan penelitian ini adalah untuk mengetahui pengaruh faktor-faktor yang mempengaruhi perilaku cyberloafing pada Pegawai Negeri Dinas Pekerjaan Umum Kota Palembang. Teknik pengambilan sampel dalam penelitian ini menggunakan teknik simple random sampling dan jumlah sampel dalam penelitian sebanyak 400 pegawai Negeri Dinas Pekerjaan Umum Kota Palembang. Penelitian menggunakan uji analisis regersi berganda. Hasil penelitian ini yaitu terdapat pengaruh yang signifikan antara jenis kelamin, usia, masa kerja, individu, organisasi dan situasi terhadap perilaku cyberloafing, dengan taraf signifikan sebesar 0.000 atau P < 0.05. Adapun R-square dari semua variabel yang telah diuji sebesar 0.962 atau 96.2%. Artinya proporsi varians dari perilaku cyberloafing yang dijelaskan oleh semua independen variabel sebesar 96.2%. Dari  keenam independen variabel yang diujikan semuanya mempengaruhi secara signifikan terhadap perilaku cyberloafing pada Pegawai Negeri Dinas Pekerjaan Umum dengan nilai sig dibawah 0.05. Dan masing-masing independen variabel memberikan sumbangan antara lain jenis kelamin sebesar 1.0%, usia sebesar 10%, masa kerja 21%, individu sebesar 59,3%, organisasi sebesar 82.4% dan situasi sebesar 36.6% terhadap perilaku cyberloafing.
References
Abidin, R. 2014. The Relationship of Cyberloafing Behavior with Big Five Persnoality Traits. Austria Journal of Basic and Applied Sciences, 8(12), 61-66.

Anandarajan, M., & Simmers, C.A. 2005. Developing Human Capital Through Personal Web Use in the Workplace: Mapping Employee Perceptions. Communications of the Association for Information Systems, 15 (41), 776-791.

APJII. 2012. Indonesia Internet Service Provider Association. [Online]. (Diakses www.apjii.or.id, tanggal 3 Agustus 2014).

Askew, Kevin Landon. 2012. The Relationship Between Cyberloafing and Task Performance and an Examination of the Theory of Planned Behavior as a Model of Cyberloafing. Graduate Theses and Dissertations.

Blanchard, A. L., & Henle, C. A. 2008. Correlates of Different Forms of Cyberloafing: The Role of Norms and External Locus of Control. Computers in Human Behavior, 24, 1067–1084.

Blau, G., Yang, Y., & Ward-Cook, K. 2006. Testing a Measure of Cyberloafing. Journal of Allied Health, 35, 9–17.

Bock, W., & Ho, S. L. 2009. Non-Work Related Computing (NWRC). Communications of the ACM , Vol. 52 (4), Pages 124-128.

Creswell W. John. 2013. Research Design Pendekatan Kualitatif, Kuantitatif, dan Mixed. Pustaka Pelajar. Yogyakarta.

Garrett, R. K., & Danziger, J. N. 2008. Disaffection or Expected Outcomes: Understanding Personal Internet Use During Work. Journal of ComputerMediated Communication, 13, 937–958.

Graziano, A. M. & Raulin, M. L. 2009. Research Methods 4th Edition. A Pearson Education Company. USA.

LaRose,R. 2010. Social Networking: Addictive, Compulsive, Problematic, or Just Another Media Habit. In Z. Papacharissi (Ed.), A networked self: Identity, community, and cultureon social network sites (pp. 59-81). NY: Routledge.

Lee O, Lim, KH, Wong WM. 2005. Why Employees do Non-Work-Related Computing: an Exploratory Investigation Through Multiple Theoretical Perspectives. In: Proceeding of the 38th Hawaii international conference on system sciences, pp 185c.

Liberman, Benjamín and Gwendolyn Seidman, Katelyn Y.A. McKenna, Laura E. Buffardi. 2011. Employee Job Attitudes and Organizational Characteristics as Predictors of Cyberloafing. Computers in Human Behavior, Vol.27, pp. 2192–2199.

Lim, V. K. G. 2002. The IT Way of Loafing on The Job: Cyberloafing, Neutralizing and Organizational Justice. Journal of Organizational Behaviour, 23; 675-694.

Lim, V.K.G. & Chen, D.J.Q. 2009. Impact of Cyberloafing on Affect, Work depletion, Facilitation and Engagement. Conference Paper SIOP, 1-20.

Ozler, D.R. dan Polay, G. 2012. Cyberloafing Phenomenon in Organizations: determinants and Impact. International Journal of eBusiness and eGoverment Studies, 4(2), 1-15.

Robbins, Stephen P. 2004. Perilaku Organisasi. PT.Indeks Kelompok Gramedia. Jakarta.

Sekaran, Uma. 2006. Research Methodhs for Business.John Willey & Sons Inc. United States of America.

Stanton, J.M. 2002. Web Addict or Happy Employee? Journal Communications of the ACM, No. 45 Vol. 1, h.55-59. June.

Ugrin, Joseph C., J. 2008. CyberSlacking: Self-Control, Prior Behavior and the Impact of Deterrence Measures. Review of Business Information Systems, 12(1), 75-87.

Weatherbee, Terrance G. 2010. Counterproductive Use of Technology at Work: Information and Communications Technologies and Cyberdeviancy. Human Resource Management Review, Vol.20, pp. 35-44.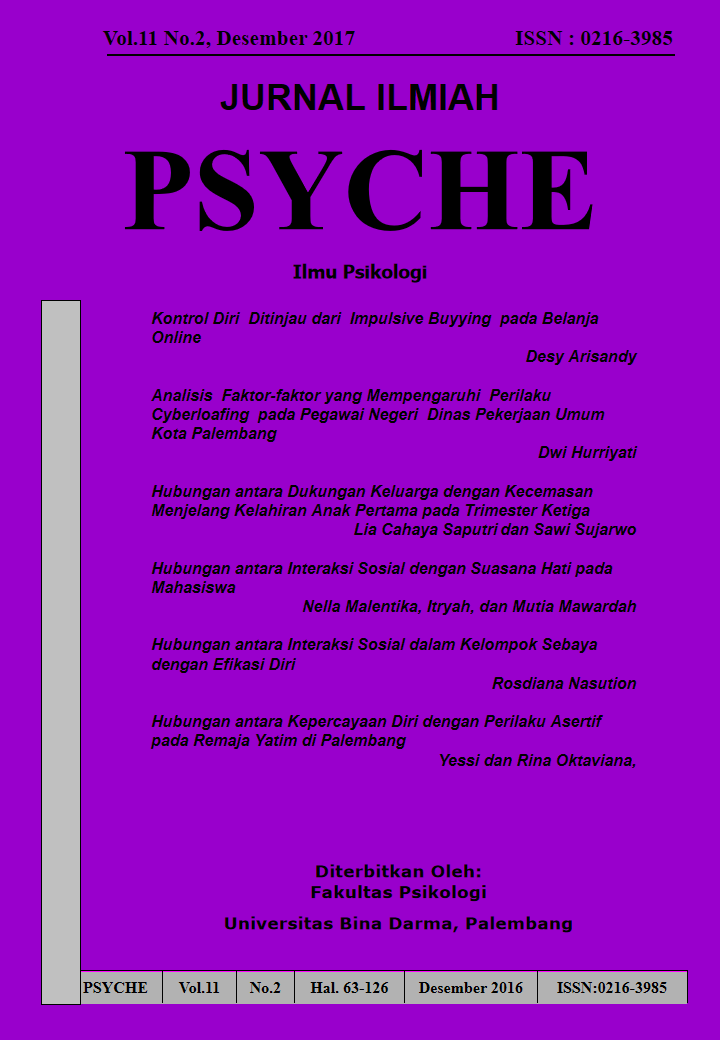 How to Cite
Hurriyati, D. (2019). ANALISIS FAKTOR-FAKTOR YANG MEMPENGARUHI PERILAKU CYBERLOAFING PADA PEGAWAI NEGERI DINAS PEKERJAAN UMUM KOTA PALEMBANG. Jurnal Ilmiah Psyche, 11(2), 75–86. Retrieved from https://journal.binadarma.ac.id/index.php/jurnalpsyche/article/view/40
Abstract viewed = 1238 times
Pdf : 4305 times

Jurnal Ilmiah Psyche by http://journal.binadarma.ac.id/index.php/jurnalpsyche is licensed under a Creative Commons Attribution-ShareAlike 4.0 International License.