ENERGY NOT SOLD (ENS) PADA IMPLEMENTASI FAULT DETECTION INSULATION AND RESTORATION (FDIR) PT. PLN DI PENYULANG OGAN GARDU INDUK SEI JUARO
Normaliaty Fithri

Universitas Bina Darma

Endah Fitriani

Universitas Bina Darma
Keywords:
Fault Detection Insulation and Restoration (FDIR), Energy Not Sold (ENS), Interference, SAIDI
Abstract
As an effort to carry out sustainability services with efficient distribution of electricity quality, a system that can provide a form of service with reliable distribution system is implemented that can provide an overview of the narrowing of the territory of the extent of the disturbance that is happening. With the application of the Fault Detection Insulation and Restoration (FDIR) system in the feeder with a relatively fast and automatic maneuver process, it can reduce the duration of the outage which can also directly determine the point of disturbance when a disturbance occurs in real time. If there is a disturbance in the Ogan feeder, the FDIR automation system will immediately isolate the network by maneuvering the Kedondong feeder in less than one minute, so that by calculating ENS you can get the benefit of reducing the Energy not sold (ENS) value.
References
[1]. Palak P. Parikh. Voloh. Mahony, 2013, Distributed Fault Detection, Isolation and Restoration (FDIR) technique for smart distribution system, 66th Annual Conference for Protective Relay Engineers.
Date Added to IEEE Xplore: 29 May 2014, DOI: 10.1109/CPRE.2013.6822035.
[2]. Suhandi. Wahatnolo. Tri, 2008, Teknik Distribusi Tenaga Listrik, Jakarta, Departemen Pendidikan Nasional.
[3]. Team PLN Sektor PT. PLN Di Penyulang Ogan Gardu Induk Sei Juaro, 2019.
[4]. Kadir, A, 2006, Distribusi dan Utilisasi Tenaga Listrik, Universitas Indonesia Press, Jakarta.
[5]. Willis, H. Lee. 2004. Power Distribution Planning Reference Book Second Edition, Revised and Expanded, Raleigh, Nort Carolina, U.S.A. New York-Basel, Marcel Dekker, Inc.
[6]. I.W.Sukadana, I.N.Suartika, 2019, Optimalisasi LBS Motorized Key Point Pada Jaringan Distribusi 20kV Untuk Meningkatkan Keandalan Sistem, Jurnal Teknik Elektro dan Vokasional (JTEV), Universitas Negeri Padang, Vol.5, No.1.1 (2019).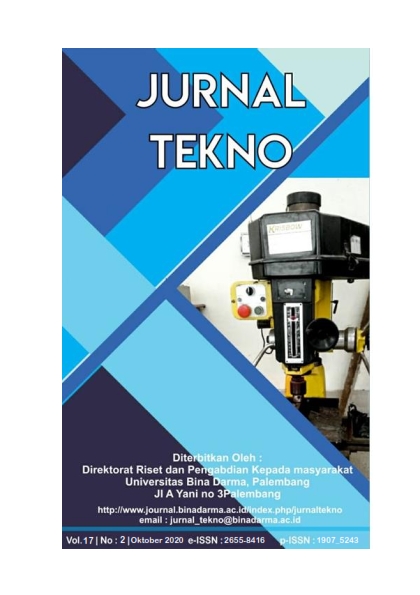 How to Cite
[1]
N. Fithri and E. Fitriani, "ENERGY NOT SOLD (ENS) PADA IMPLEMENTASI FAULT DETECTION INSULATION AND RESTORATION (FDIR) PT. PLN DI PENYULANG OGAN GARDU INDUK SEI JUARO", jtekno, vol. 17, no. 2, pp. 18–30, Oct. 2020.
Abstract viewed = 379 times
pdf : 409 times

Jurnal Tekno by journal.binadarma.ac.id/index.php/jurnaltekno is licensed under a Creative Commons Attribution-ShareAlike 4.0 International License.