ANALISIS KEGAGALAN ISOLASI MINYAK TRANSFORMATOR 27 MVA PLTG 1 JAKABARING BERDASARKAN HASIL UJI DISSOLVED GAS ANALYSIS (DGA)
Normaliaty Fithri

Universitas Bina Darma

Januar Rizky Auliya

PLN Pembangkit PLTGU Keramasan
Keywords:
Transformator, Dissolved Gas Analysis, Minyak Transformator
Abstract
Metode indentifikasi kandungan gas yaitu dengan Dissolved Gas Analysis (DGA) merupakan metode konvensiona luntuk mengidentifikasi kandungan gas yang terlarut dalam minyak trafo. Kita menggunakan Dissolved Gas Analysis (DGA) dengan metode pengukuran transport X guna mendeteksi gangguan pada minyak transformator 27 MVA PLTG 1 Jakabaring. Analisa hasil DGA tes yang dilakukan dalam pengujian mempertimbangkan hasil Total Dissolved Combustible Gas (TDCG), merupakan konsentrasi gas-gas yang terkandung dalam minyaki solasi transformator meliputi gas hidrogen, metana, etana, etilena, asetilena, karbondioksid ada nkarbonmonoksida. IEEE C 57.104:2008 merupakan standard yang digunakan untuk menentukan nilai hasil DGA tes. Hasil pengukuran pertama sebelum dilakukan treatment dan purifier pada minyak trafo menunjukkan keadaan T3 :  Thermal Fault > 700oC. Mengacu pada IEC 60599 (2007) kondisi ini merupakan dar iterbentuknya sejumlah besar karbon pada minyak, korosi metal (800°C) atau metal fusion (>1000°C). Setelah dilakukan rekomendasi untuk treatment dan purifier pada minyak transformator 27 MVA PLTG 1 Jakabaring didapatkan hasil pengukuran DGA tes  menunjukkan nilai yang normal
References
Badaruddin, Fery Agung Firdianto, 2016, Analisa Minyak Transformator Pada Transformator Tiga Fasa Di Pt X, Jurnal Teknologi Elektro, Universitas Mercu Buana, Issn:2086-9479, Vol.7 No.2 Mei 2016, Hal. 75-83, Jakarta.

IEEE Std. C57.104-2008 IEEE Guide for the Interpretation of Gases Generated in Oil Immersed Transformers.

Asesmen Transformator Tenaga B.1.1.2.91.3,Edisi 1 Tahun 2014

Manual Book, Transport X portable Dissolve Gas Analysis User Manual.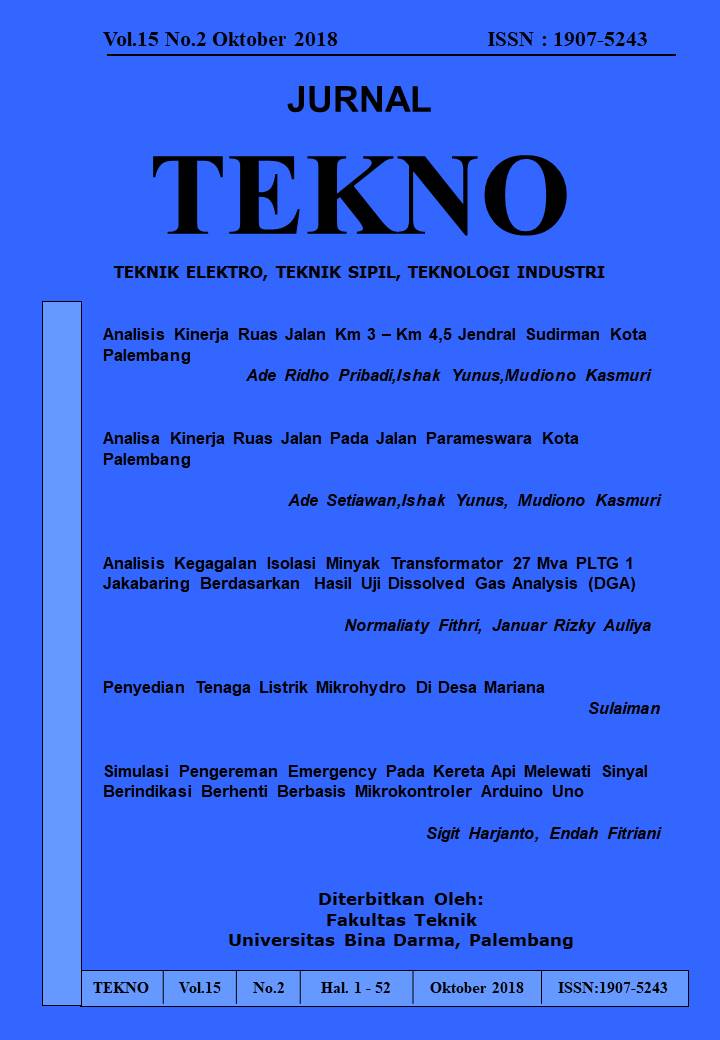 How to Cite
[1]
N. Fithri and J. Auliya, "ANALISIS KEGAGALAN ISOLASI MINYAK TRANSFORMATOR 27 MVA PLTG 1 JAKABARING BERDASARKAN HASIL UJI DISSOLVED GAS ANALYSIS (DGA)", jtekno, vol. 15, no. 2, pp. 23-33, Oct. 2019.
Abstract viewed = 205 times
Download PDF : 775 times

Jurnal Tekno by journal.binadarma.ac.id/index.php/jurnaltekno is licensed under a Creative Commons Attribution-ShareAlike 4.0 International License.