ANALISIA HIDROGRAF SATUAN DAN WIND ROSE PLOTS PADA DAERAH ALIRAN SUNGAI SEKANAK
Henggar Risa Destania

Universitas Indo Global Mandiri

Achmad Syarifudin

Universitas Bina Darma
Keywords:
wateshed, sekanak, hydrograph, river
Abstract
Sekanak watershed is a basin in Palembang which is often affected by flood during the rainy season. The characteristics of the watershed by the impact of changes in land-use  by economic and settlement developments. Sekanak watershed has 3 retention ponds which have the function of accommodating temporary discharge during floods. The catchment capacity of the watershed soil type, storage conditions etc. Therefore we need an analysis of the transformation of rainfall data in the watershed into a flow at the watershed control point and an analysis of the transformation of runoff volume (effective rain) into a surface runoff hydrograph (unit hydrograph). Hydrographs measured at a watershed control point are the response or output from rain that falls on a watershed system. The size of the watershed depend on the watershed system. This is closely related in analyzing the availability of water that occurs in the watershed system.
References
[1] Hermance, J., "Environmental Geophysiscs/Hydrology". Diambil kembali dari http://www.geo.brown.edu/research/Hydrology/FTP_site_5099-05/ geol0580_02_WatershedDelineation_158_2009 _(handouts).pdf, 2013.
[2] A Syarifudin, "Hidrologi Terapan", Beta Offset, Yogyakarta, 2018
[3] Sri Harto, "Analisis Hidrologi", Jakarta: Gramedia Pustaka Utama, 1993.
[4] A Syarifudin, "Drainase Perkotaan Berwawasan Lingkungan", Beta Offset Yogyakarta, 2018
[5] Suripin. "Sistem Drainase Perkotaan yang Berkelanjutan", Yogyakarta: Andi Offset,
2002
[6] Jayadi, R., "Hidrologi I, Pengenalan Hidrologi", Yogyakarta: UGM Press, 2000.
[7] Kodoatie, R., & Sugiyanto, "Banjir, Beberapa Penyebab dan Metode Pengendaliannya dalam Perspektif Lingkungan" , Yogyakarta: Pustaka Belajar, 2003.
[8] Sherman, L., "Streamflow from rainfall by the unit hydrograf method",. England: News-Record, 1932.
[9] Soemarto, " Hidrologi Teknik", Surabaya: Usaha Nasional, 1987.
[10] Triatmodjo, B., "Hidrologi Terapan", Yogyakarta: Beta Offset. 2008.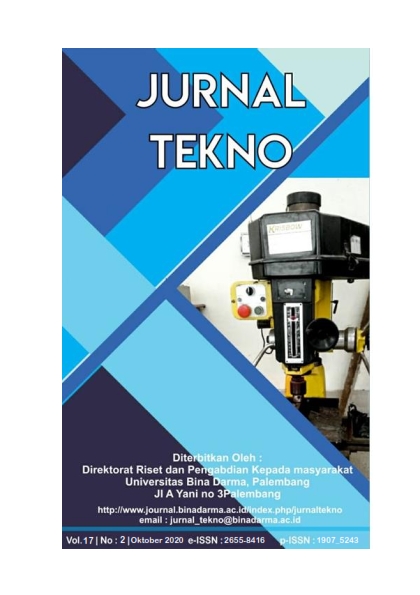 How to Cite
[1]
H. Destania and A. Syarifudin, "ANALISIA HIDROGRAF SATUAN DAN WIND ROSE PLOTS PADA DAERAH ALIRAN SUNGAI SEKANAK", jtekno, vol. 17, no. 2, pp. 32- 43, Oct. 2020.
Abstract viewed = 258 times
pdf : 376 times

Jurnal Tekno by journal.binadarma.ac.id/index.php/jurnaltekno is licensed under a Creative Commons Attribution-ShareAlike 4.0 International License.