The Influence of Starch Weight Variations in Making Bioethanol from Plantain Turber Waste (Musa Sapientum)
kiagus ahmad roni

universitas muhammadiyah palembang
Keywords:
bioetanol, bonggol pisang, bahan bakar alternatif, berat pati, fermentasi
Abstract
Bioetanol (C2H5OH) merupakan cairan biokimia (biofuel) dari proses fermentasi gula menggunakan sumber karbohidrat dengan bantuan mikroorganisme. Bioetanol digunakan sebagai bahan bakar alternatif dan sumber bahan bakar nabati yang ramah lingkungan dan terbarukan, salah satu alternatif bahan bakunya adalah bioetanol dari bahan baku limbah bonggol pisang. Penelitian ini bertujuan untuk mengetahui pengaruh variasi berat pati pada pembuatan bioetanol dari limbah bonggol pisang raja (Musa Sapientum). Berat pati yang divariasikan dalam proses hidrolisis sebesar 100 gram, 150 gram, 200 gram, 250 gram dan 300 gram, dimana larutan asam sulfat yang digunakan sebesar 0,5N. Pada tahap fermentasi larutan hasil hidrolisa menggunakan ragi roti Saccaromyces Cerevisiae dengan lama fermentasi selama 4 hari. Untuk mengetahui kadar kemurnian bioetanol yang didapat maka dilakukan analisis dengan menggunakan gas kromatografi, penentuan indeks bias menggunakan refraktometer, dan penentuan volume bioetanol yang didapat. Dari penelitian ini diperoleh bahwa berat pati optimum yang didapatkan adalah pada penggunaan 250 gram pati bonggol pisang dengan kadar bioetanol sebesar 8,4432%, volume yang didapatkan 18,8 mL, pH sebesar 7,46 dan Indeks Bias sebesar 1,33587. Dari data analisa tersebut, bioetanol yang didapatkan memiliki kuantitas dan kualitas yang kecil dibandingkan dengan etanol standar.
Kata kunci: bioetanol, bonggol pisang, bahan bakar alternatif, berat pati, fermentasi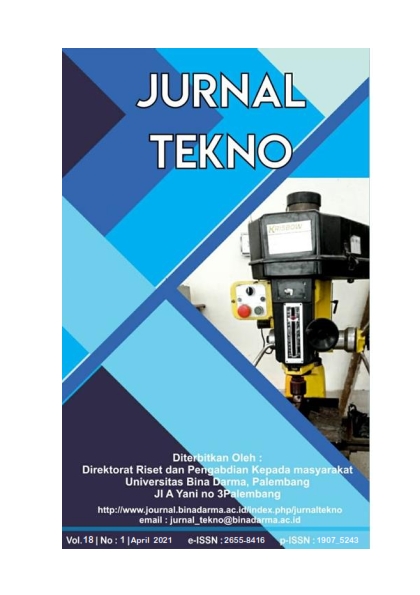 How to Cite
[1]
kiagus roni, "The Influence of Starch Weight Variations in Making Bioethanol from Plantain Turber Waste (Musa Sapientum)", jtekno, vol. 18, no. 1, pp. 1–8, Apr. 2021.
Abstract viewed = 130 times
pdf : 70 times

Jurnal Tekno by journal.binadarma.ac.id/index.php/jurnaltekno is licensed under a Creative Commons Attribution-ShareAlike 4.0 International License.