ERGO-WORKLOAD PEKERJA UKM PEMPEK GLORY BERBASIS METODE FULL TIME EQUIVALENT
Keywords:
ergo workload, Full Time equivalent, Keseimbangan beban kerja, UKM pempek glory
Abstract
UKM Pempek Glory merupakan sebuah usaha kecil menengah yang bergerak dibidang pembuatan dan penjualan pempek dengan beragam varian pempek. Diketahaui bahwa produksi pempek pada UKM Pempek Glory pada saat pandemic Covid-19 mengalami penurunan tingkat penjualan sehingga beban kerja pekerja di setiap stasiun perlu diseimbangkan dan dioptimalkan sesuai dengan jumlah produk yang terjual agar UKM Pempek Glory bisa survival. Berdasarkan permasalahan tersebut dilakukan penelitian yang bertujuan untuk mengetahui bagaimana workload pekerja dan mengetahui jumlah kebutuhan tenaga kerja yang optimal. Penelitian ini menggunakan pendekatan sinergis Ergo-Workload metode Full Time Equivalent (FTE), merupakan sebuah metode analisis workload  fisik yang mengukur lama waktu penyelesaian kerja dalam stasiun kerja yang ergonomis. Berdasarkan hasil penelitian menggunakan Ergo-Workload metode FTE diketahui bahwa ada ketidakseimbangan workload dalam stasiun kerja yang kurang ergonomis dari 9 pekerja dengan 5 stasiun kerja, semuanya memiliki workload yang dibawah normal/underload dan masih memungkinkan untuk dilakukan pengurangan jumlah pekerja dengan mengharmonisasikan kapasitas pekerja dengan tingkat penjualan pempek di saat krisis pandemi Covid-19. Oleh sebab itu dilakukan beberapa perbaikan stasiun kerja berbasiskan Ergo-Workload dengan menggabungkan beberapa pekerjaan. Hasilnya adalah jumlah tenaga kerja optimal sebanyak 5 pekerja dan nilai keseimbangan meningkat dari sebelumnya 11,11 % menjadi 43,08 %.
References
[1] Hidayat A. 2014. Perhitungan Jumlah Tenaga Kerja yang Optimal pada Cleaning Pabrik
Personal Wash di PT.Unilever Indonesia. ITS Paper, Vol : 1.

[2] Setiawan H and Rinamurti. 2019. Recommendations of Ergonomics Checkpoints and Total Ergonomics Intervention in The Pempek & Kemplang Palembang Industry. The 1st International Conference on Research in Industrial and Systems Engineering (ICRISE), November 14 - 15, 2019 in Bali, Indonesia.

[3] Setiawan H. 2017. Rekomendasi Intervensi Ergonomi Pada UKM Unggulan Provinsi Sumsel. Jurnal LOGIC Vo. 17, No. 2, Ju,li 2017. Pp.86-91.

[4] Setiawan, H. 2012. Short Resting Time and Accompanying Work Music Decrease Work Fatigue and Work Stress to Workers at Crumb Rubber Factory. Proceedings International Conference 2012, Southeast Asian Network of Ergonomics Societies Conference (SEANES), Langkawi-Malaysia, July 9-12, 2012. ISBN No. 978-983-41742.

[5] Setiawan, H. 2016. Peran Keilmuan Teknik Industri dalam Standardisasi Daya Saing Industri Indonesia. Yogyakarta: PT Penerbit Kanisius.

[6] Setiawan, H. 2017. Redesigning the Working System of Rubber Industries Based on Total Ergonomics and ErgoMmicMac Integration. IOP Conference Series: Journal of Physic 953. The 2nd International Joint Conference on Science and Technology (IJCST).

[7] Subagia G. M. 2015. Analisis Beban Kerja Bedasarkan Jobdesk Masing-Masing Pekerjaan dan Kebutuhan Karyawan di Divisi Produksi dengan Menggunakan Metode Full Time Equivalent.

[8] Wignjosoebroto S. 2003. Ergonomi Studi Gerak dan Waktu. Surabaya: Penerbit Guna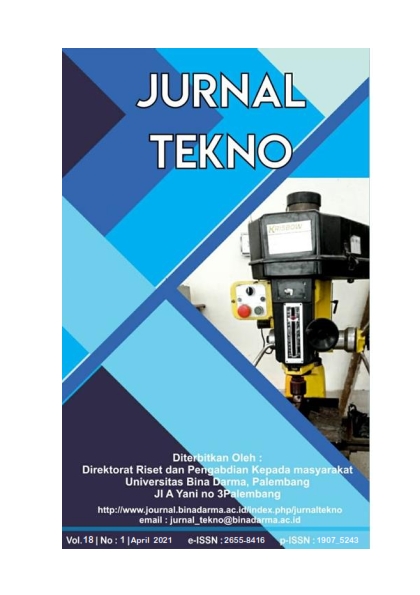 How to Cite
[1]
C. Kusmindari and H. Setiawan, "ERGO-WORKLOAD PEKERJA UKM PEMPEK GLORY BERBASIS METODE FULL TIME EQUIVALENT", jtekno, vol. 18, no. 1, pp. 39 - 53, Apr. 2021.
Abstract viewed = 93 times
pdf : 123 times

Jurnal Tekno by journal.binadarma.ac.id/index.php/jurnaltekno is licensed under a Creative Commons Attribution-ShareAlike 4.0 International License.