Perencanaan Pembangkit Listrik Tenaga Mikro Hidro (PLTMH) di Desa Tanjung Raman Talang Air Selepah Kecamatan Pendopo Kabupaten Empat Lawang
Beni Ardo

Emidiana Emidiana

Universitas PGRI Palembang

Perawati Perawati
Keywords:
MHP, power, discharge
Abstract
Electricity is needed by all levels of society. Talang Air Selepah is a village located in Pendopo District, Empat Lawang Regency. This gutter has not served electricity by PLN. Microhydro power plants are power plants with capacities ranging from 100 W to 100 kW. This research is expected to be a reference for the community  implementing the results of this study. Measurements obtained a discharge of 7.44 /s from a river width of 6 meters and an average water flow velocity of 1.06 m/s with a planned head of 1 meter. Based on results of calculations carried the power that can be generated by the PLTMH talangair selepah is 42 kW. The turbine plan to be used in this MHP is a propeller turbine with an open flume type with a turbine efficienct of 0.80% with turbine power 58.34 kW, a generator with an output of 60 kW is needed. Freshgen generator with output of 60 kW with a generator efficiency 0.80%. The results of this plan can later be implemented and can provide benefits to meet electricity needs in Tanjung Raman Village.
References
[1] Arismunandar, Artono. (1991). Buku Pegangan Teknik Tenaga Listrik. Jakarta: PT. Pradnya Paramita.
[2] Dwiyanto, V. (2016). Analisa Pembangkit Listrik Tenaga Mikro Hidro (PLTMH) Studi Kasus : Sungai Air Anak ( Hulu Sungai Way Besar). Bandar Lampung Universitas Lampung.
[3] Marfizal. (2021). Perancangan Turbin Propeller dan Pengujian Pengaruh Bentuk Penampang Sudu Turbin Terhadap Efisiensi Turbin. Padang: Universitas Andalas.
[4] Markus Dwiyanto dan Vina Natalia. (2017). Studi Perencanaan Pembangunan PLTMH di Kampung Sasnek Distrik Sawiat Kabupaten Sorong Provinsi Papua Barat. Politeknik Katolik Saint Paul Sorong, 3.
[5] Putra, I. G., Weking, A. i dan Jasa, L. (2018). Analisa Pengaruh Tekanan Air Terhadap Kinerja PLTMH dengan Menggunakan Turbin Archimedes Screw. Majalah Ilmiah Teknologi Elektro, 385-392.
[6] Soemarto. (1986). Hidrologi Teknik. Jakarta: Erlangga.
[7] Sukamta,S dan Kusmantoro,A. (2013). Perencanaan Pembangkit Listrik Tenaga Mikrohidro (PLTMH) Jantur Tabalas Kalimantan Timur. Jurnal Teknik Elektro, 58.
[8] Zuhal. (1991). Dasar Teknik Tenaga Listrik. Bandung: ITB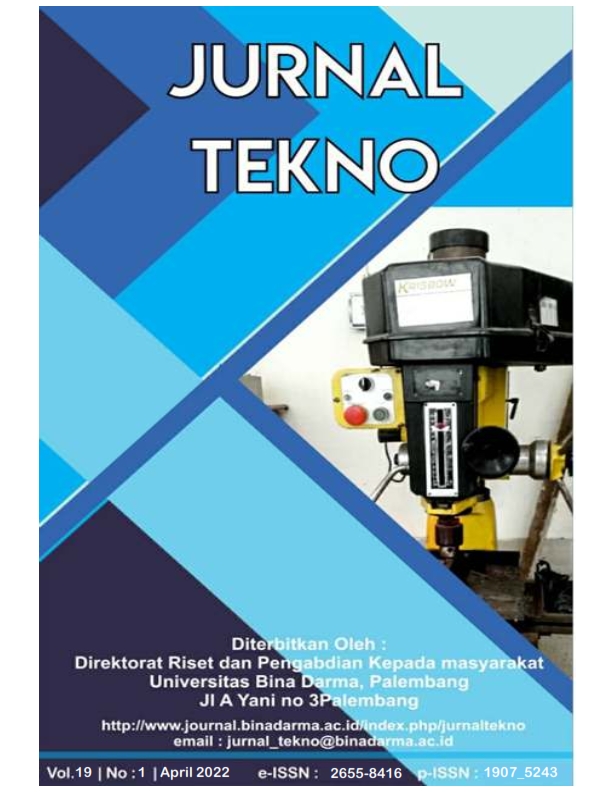 How to Cite
[1]
B. Ardo, E. Emidiana, and P. Perawati, "Perencanaan Pembangkit Listrik Tenaga Mikro Hidro (PLTMH) di Desa Tanjung Raman Talang Air Selepah Kecamatan Pendopo Kabupaten Empat Lawang", jtekno, vol. 19, no. 1, pp. 81–92, Apr. 2022.
Abstract viewed = 325 times
pdf : 354 times

Jurnal Tekno by journal.binadarma.ac.id/index.php/jurnaltekno is licensed under a Creative Commons Attribution-ShareAlike 4.0 International License.