IDENTIFIKASI ATRIBUT-ATRIBUT INOVATIF LAYANAN KARAOKE KELUARGA: INTEGRASI MODEL NSD-EMF-KANO
Ronald Sukwadi

Universitas Katolik Indonesia Atma Jaya

Ferdian Suprata

Universitas Katolik Indonesia Atma Jaya

Sylvia Cahyadi Santosa

Universitas Katolik Indonesia Atma Jaya
Keywords:
karaoke, NSD, EMF, KANO, inovasi
Abstract
Hiburan saat ini telah menjadi kebutuhan masyarakat Jakarta untuk menghilangkan kelelahan dan kebosanan dalam kegiatan pekerjaan sehari-hari. Dengan ketatnya persaingan di industri hiburan, karaoke keluarga dituntut untuk mempunyai strategi dalam berbisnis yang tepat dengan selalu melakukan inovasi. Penelitian ini bertujuan untuk mengembangkan desain layanan yang inovatif bisnis karaoke keluarga untuk meningkatkan daya saingnya di industri hiburan. Wawancara, FGD, dan kuesioner dirancang untuk mendapatkan data-data yang diperlukan. Model integrasi NSD-EMF-Kano digunakan sebagai kerangka kerja dalam mengidentifikasi atribut layanan inovatif. Model new service development (NSD) digunakan untuk menggali ide-ide pelanggan untuk mengembangkan atribut-atribut layanan inovatif. Hasilnya digabungkan dengan 5 elemen experiential marketing framework (EMF), yaitu: sense, feel, think, act dan relate yang dikembangkan berdasarkan hasil pengalaman pelanggan. Setelah itu, akan dievaluasi dengan kuesioner Kano untuk menentukan kategori Kano. Hasilnya terdapat 19 atribut layanan inovatif karaoke keluarga yang teridentifikasi untuk dikembangkan lebih lanjut
References
[1] Alam, I. 2002. An Exploratory Investigation of User Involvement in New Service Development. Journal of the Academy of Marketing Science, 30(3): 250-261.
[2] Alam, I. & Perry, C. 2002. A Customer-Oriented New Service Development Process. The Journal of Services Marketing,16(6): 515-534.
[3] Bullinger, H.J. & Schreiner, P. 2006. Service Engineering: Ein Rahmenkonzept für die systematische Entwicklung von Dienstleistungen. Heidelberg: Springer Verlag.
[4] Fan, L., Sukwadi, R. & Moon, J.Y. 2015. Creating an Innovative Marketing Strategy Based on Kano-Blue Ocean Approach, The Journal of the Korea Contents Association, 15(12): 534-540.
[5] Holbrook, M.B. & Hirschman, E.C. 1982. The Experiential Aspects of Consumption: Consumer Fantasies, Feelings, and Fun. Journal of Consumer Research, 9(2): 132-140.
[6] Johnson, S.P., Menor, L.J., Chase, R.B. & Roth, A.V. 2000. A Critical Evaluation of the New Services Development Process: Integrating Service Innovation and Service Design, Dalam J.A. Fitzsimmons & M.J. Fitzsimmons (Eds.), New Service Development: Creating Memorable Experiences. Thousand Oaks, CA: Sage Publications.
[7] Kano, N., Seraku, N., Takahashi, F. &Tsuji, S. 1984. Attractive Quality and Must-be Quality. Journal of The Japanese Society for Quality Control, 14: 39-48.
[8] Pine, B.J. & Gilmore, J.H. 1999. The Experience Economy Work is Theatre and Every Business a Stage. Boston: Harvard Business School Press.
[9] Posselt, T. & Förstl, K. 2011. Success Factors in New Service Development – a Literature Review. In: Productivity of Services Next Gen - Beyond Output / Input. Hamburg, Germany. September 7-10, 2011. European Association for Research on Services. [Cited 8 Jun 2012]. Available at: http://reser.net/materiali/priloge/slo/posselt_et_al.pdf.
[10] Rahmad, A. 2012. Analisis Persepsi konsumen terhadap Pelayanan Karaoke Inul Vizta Family Outlet Cabang Kota Jambi. Jurnal Manajemen Fakultas Ekonomi Universitas Jambi, 1: 92-100.
[11] Schmitt, H.B. 1999. Experiential Marketing: How to Get Your Customer to Sense, Feel, Think, Act and Relate to Your Company and Brands. New York: The Free Press.
[12] Slevitch, L. & Oh, H. 2010. Asymmetric Relationship between Attribute Performance and Customer Satisfaction: A New Perspective, International Journal of Hospitality Management, 29: 559-69.
[13] Smith, S. & Wheeler, J. 2002. Managing Customer Experience: Turning Customer into Advocates. Great Britain: Prentice Hall.
[14] Suef, M., Suparno, Singgih, M.L., Sukwadi, R. & Widawati, E. 2014. Utilizing Claims, Complaints, and Company Initiatives as VOC in a Product Development using QFD-Kano Approach, International Journal of Applied Engineering Research, 9(22): 18013-18024.
[15] Sukwadi, R. 2015. Utilizing Customer Experience Management Framework to Create A Delightful Service Experience, International Journal of Industrial Engineering and Management, 6(1): 29-42.
[16] Sukwadi, R. & Agustin, D. 2016. Analisis Kualitas Layanan Restoran dengan Menggunakan Model Kano-PRCA dan AIM, Spektrum Industri, 14(1): 89-98.
[17] Sukwadi, R., Inderawati, M.M.W. & Lie, V. 2015. Pengembangan Strategi Perbaikan Kualitas Layanan Taman Hiburan Dunia Fantasi Ancol, Journal of Industrial Engineering & Management Systems, 8(1): 55-69.
[18] Sukwadi, R. & Perdana, Y.M.P. 2018. Penerapan Model Kano-IGA dalam Analisis Kepuasan Kerja Karir Awal Karyawan, Spektrum Industri, 16(1): 87-99.
[19] Sukwadi, R. & Yang, C.C. 2014. Determining Service Improvement Priority in a Zoological Park. Journal of Industrial Engineering and Management, 7(1): 1-20.
[19] Witell, L. & Löfgren, M. 2007. Classification of Quality Attributes. Managing Service Quality, 17(1): 54-73.
[20] Yuliana, W. & Aminah, I.S. 2016. Kepuasan dan Loyalitas Konsumen: Industri Jasa. Seminar Nasional Ilmu Pengetahuan dan Teknologi Komputer, Jakarta, 3 Desember 2016.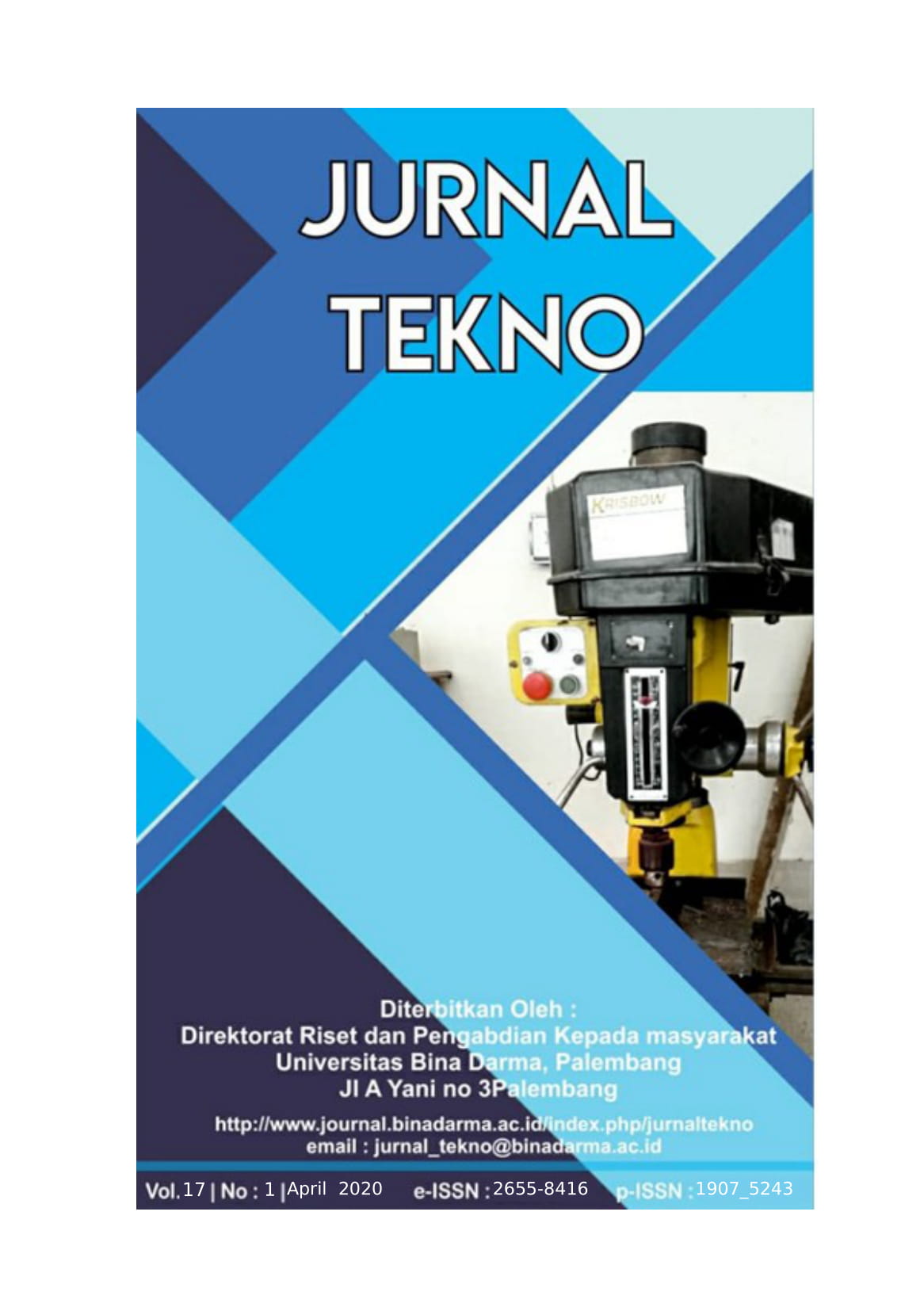 How to Cite
[1]
R. Sukwadi, F. Suprata, and S. Santosa, "IDENTIFIKASI ATRIBUT-ATRIBUT INOVATIF LAYANAN KARAOKE KELUARGA: INTEGRASI MODEL NSD-EMF-KANO", jtekno, vol. 17, no. 1, pp. 14–25, Apr. 2020.
Abstract viewed = 143 times
pdf : 229 times

Jurnal Tekno by journal.binadarma.ac.id/index.php/jurnaltekno is licensed under a Creative Commons Attribution-ShareAlike 4.0 International License.