Pengaruh Financial Technology Dalam Meningkatkan Literasi Keuangan Usaha Mikro Kecil dan Menengah Kota Palembang
Studi Kasus Usaha Mikro Kecil Dan Menengah Kota Palembang Tahun 2020
Yayuk Mustikasari

Universitas Bina Darma

Andrian Noviardy

Universitas Bina Darma
Keywords:
Financial technology, financial literacy, UMKM
Abstract
This study aims to analyze the role of fintech in improving the financial literacy of UMKM in Palembang City. In this study, researchers used 42 randomly selected responses, namely UMKM actors in Seberang Ulu 1 and 2 Districts, Palembang city. This study uses data collection techniques using primary and secondary data. The aim is to determine the effect of fintech and literacy variables on UMKM in Palembang City. The hypothesis testing method used in this study is the t-test. Based on the test results using the t-test that the financial technology variable in improving UMKM financial literacy in Palembang City has a T value or P-value <0.05, identifying a positive relationship between the dependent variable (Y) and the independent variable (X). This means that there is a significant influence between the two variables.
References
Desiyanti, R. (2016). Literasi dan Ingklusi Keuangan Serta Indeks Utilitas UMKM Padang. Jurnal Bisnis dan Manajemen, Vol,2, No,2. https://jurnal.Pnk.ac.id. diakses tanggal 18 Desember 2019 jam 14:21.
Muchlis, R. (2018). analisis SWOT financial technology (fintech) pembiayaan perbankan Syariah di Indonesia, jurnal Ekonomi Syariah. Vol.3, No.2, http://jurnal.uinsu.ac.id. diakses tanggal 20 desember 2019 jam 20:30.
Marginingsih, R. (2019). Analisis SWOT Technology financial (fintech) terhadap industri perbankan.jurnal Humaniora, Vol,19 No,1. Http://ejournal.bsi.ac.id/ e-jurnal/index.php/cakrawala. Diakses tanggal 20 desember 2019.
Rumbia Ningrum, W, & Wijayangka, C. (2018). Pengaruh literasi keuangan terhadap pengelolaan keuangan umkm. Jurnal manajemen dan bisnis (almana), vol,2.No,3. http://journal.unla.ac.id. Diakses tanggal 20 desember 2019 jam 02:00.
Soetiono, K., & Setiawan, C. (2018). Literasi dan Inklusi keuangan Indonesia. Depok: Rajawali Pers.
Sugiarti, E. N., Diana, N., & Mawardi, M. C. (2019). E-JRA. Peran Fintech dalam meningkatkan literasi keuangan pada usaha mikro kecil dan menengah di malang, Vol,08, No,04. http://riset.unisma.ac.id. Diakses tanggal 26 desember 2019 jam 15:00.
Suryani, S., & Ramadhan, S. (2017;15). Analisis literasi keuangan pada pelaku usaha mikro di kota pekanbaru. Journal of Economic, Business and Accounting (COSTING), Vol,1. No,1. https://journal.ipm2kpe.or.id. Diakses tanggal 28 Desember 2019 jam 16:18.
Sugiono. (2018). Metode Penelitian Evaluasi (pendekatan kuantitatif, kualitatif, dan kombinasi). Bandung: ALFABETA,CV.
Wahyuningsih, D., & Fahmie, A. (2019). Rancangan model tata kelola keuangan umkm berbasis teknologi informasi dan komunikasi. Jurnal IKRA-ITH Humaniora, Vol 3 No 3 . Https://journals.upi-yai.ac.id. diakses tanggal 28 desember 2019 jam 19:00.
Wibowo, D. H., Arifin, Z., & Sunarti . (2015). Analisis strategi pemasaran untuk meningkatkan daya saing umkm (Studi pada Batik Diajeng Solo). Jurnal Administrasi Bisnis (JAB), Vol. 29 No.1. https://administrasibisnis.studentjournal.ub.ac.id. diakses tanggal 24 desember 2019 jam 11:15.
Wiranto, W. W. (2020). peran fintech dalam meningkatkan usaha mikro kecil dan menengah (UMKM). Jurnal Ekonomi dan Ekonomi Syariah, Vol.3 No.1,, 62 - 63. stealwashaliyahsibolga.ac.id. diakses tanggal 25 desember 2019 jam 10:00.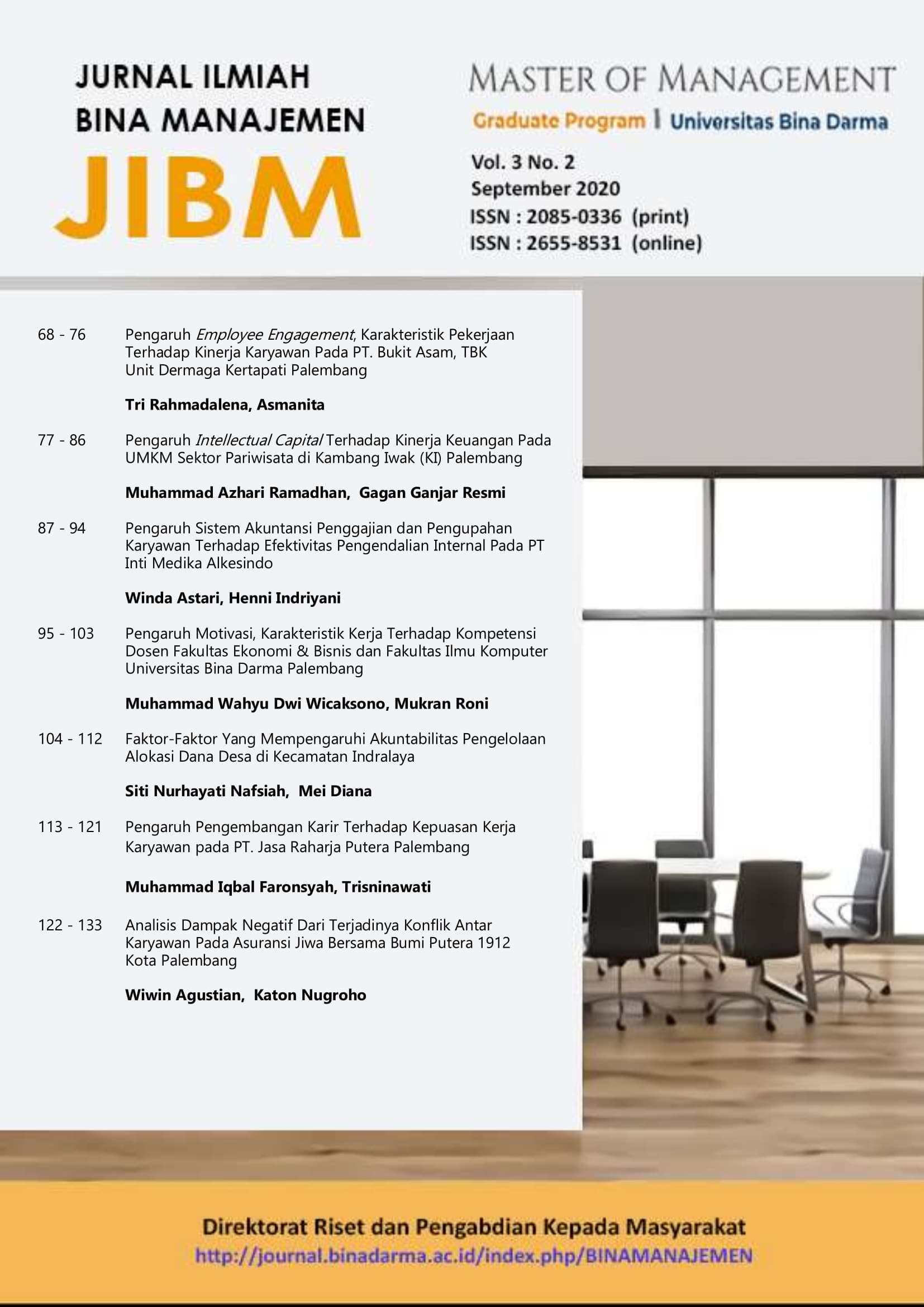 How to Cite
Mustikasari, Y., & Noviardy, A. (2020). Pengaruh Financial Technology Dalam Meningkatkan Literasi Keuangan Usaha Mikro Kecil dan Menengah Kota Palembang. Jurnal Ilmiah Bina Manajemen, 3(2), 147–155. https://doi.org/10.33557/jibm.v3i2.1135
Abstract viewed = 1081 times
Download PDF : 1648 times