THE IMPACT OF ATTRACTIVENESS OF ADS AND CUSTOMER COMMENTS AGAINST TO PURCHASE DECISION OF CUSTOMER PRODUCTS ON THE USER OF ONLINE SHOP APPLICATIONS IN THE CITY OF MEDAN
Muhammad Agung Anggoro

Universitas Prima Indonesia

Mas Intan Purba

Universitas Prima Indonesia
Keywords:
Attractiveness of Ads, Customer Comments, Purchase Decision
Abstract
The increasingly fierce competition of online shop products spurred online shop application providers to undertake business development strategy steps by strengthening digital business services and various service innovations to meet customer needs. This can be seen from the public interest in shopping at online stores because prices are more competitive, there is no need to bother coming directly to the store, and the goods purchased will be delivered to the buyers' place. The population in this study that used mobile shop online application services was 105,551 respondents with the formula Slovin obtained a sample size of 100 respondents. The research data analysis method is quantitative descriptive statistical analysis and multiple regression analysis. The result of this research is that the attractiveness of advertisements and customer comments together have a positive and significant effect in increasing customer product purchasing decisions for users of online shop applications in Medan, while partially the attractiveness of advertising (X1) only has a positive and significant effect, but the variables customer comments (X2) have no positive effect in improving customer product purchasing decisions on users of online shop applications in the city of Medan.
 Persaingan produk online shop yang semakin ketat memacu perusahaan penyedia aplikasi online shop untuk melakukan langkah strategi pengembangan usaha dengan perkuatan layanan bisnis digital serta beragam inovasi layanan untuk memenuhi kebutuhan pelanggan. Hal tersebut terlihat dari ketertarikan masyarakat berbelanja di toko online dikarenakan harga yang lebih kompetitif, tidak perlu ribet datang langsung ke toko, dan barang yang dibeli akan diantar ke tempat pembeli. Populasi dalam penelitian ini yang menggunakan layanan mobile aplikasi online shop sebanyak 105.551 responden dengan rumus slovin diperoleh jumlah sampel sebanyak 100 responden. Metode analisis data penelitian adalah analisis statistik deskriptif kuantitatif dan analisis regresi berganda. Hasil penelitian diperoleh daya tarik iklan dan komentar pelanggan secara bersama-sama berpengaruh positif dan signifikan dalam meningkatkan keputusan pembelian produk pelanggan pada pengguna aplikasi online shop di Kota Medan, sedangkan secara parsial variabel daya tarik iklan (X1) saja yang berpengaruh positif dan signifikan tetapi variabel komentar pelanggan (X2) tidak berpengaruh positif dalam meningkatkan keputusan pembelian produk pelanggan pada pengguna aplikasi online shop di Kota Medan.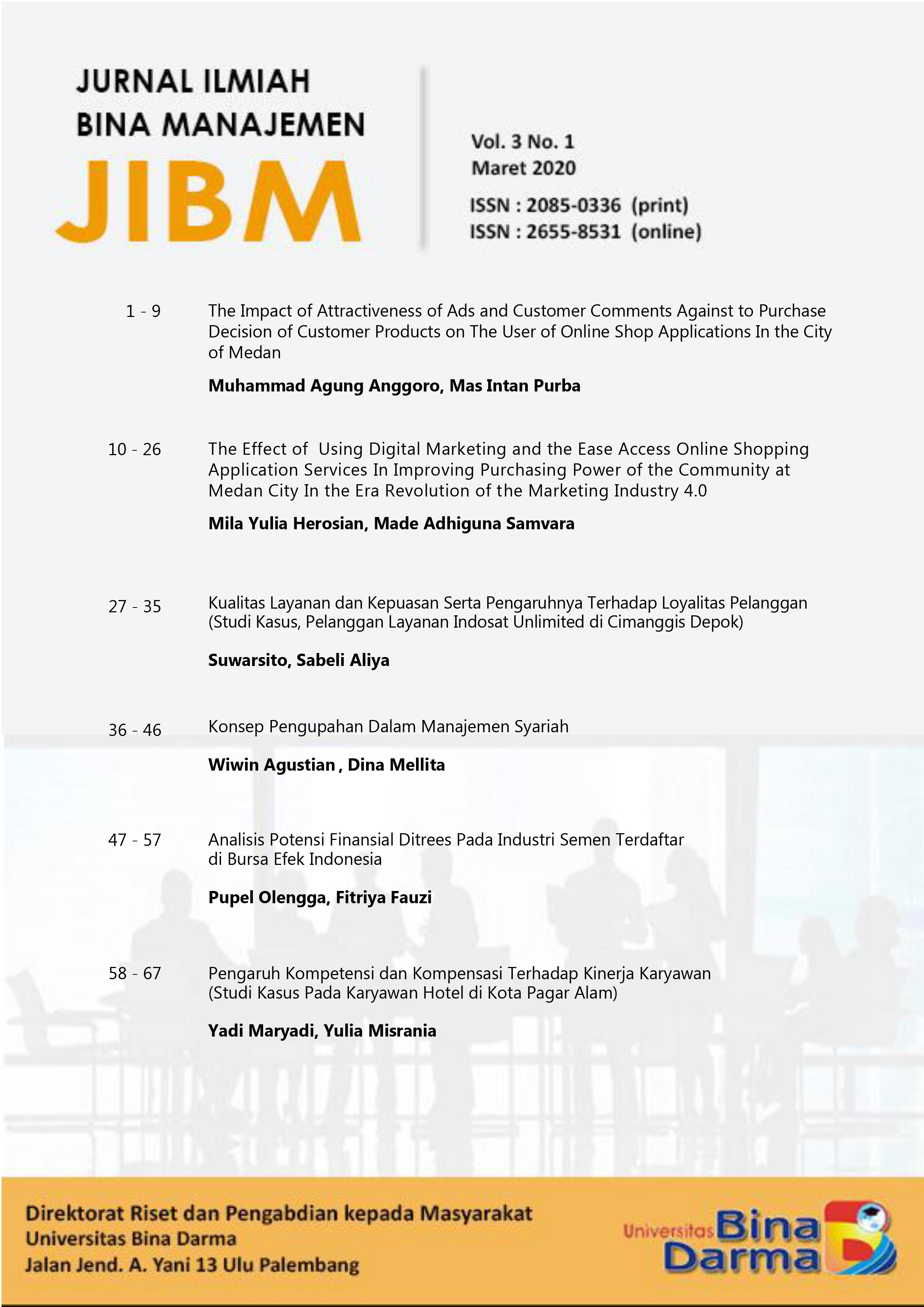 How to Cite
Anggoro, M., & Purba, M. (2020). THE IMPACT OF ATTRACTIVENESS OF ADS AND CUSTOMER COMMENTS AGAINST TO PURCHASE DECISION OF CUSTOMER PRODUCTS ON THE USER OF ONLINE SHOP APPLICATIONS IN THE CITY OF MEDAN. Jurnal Ilmiah Bina Manajemen, 3(1), 1–9. https://doi.org/10.33557/jibm.v3i1.823
Abstract viewed = 452 times
Download PDF : 490 times