ANALISIS PENGENDALIAN KUALITAS DENGAN PENDEKATAN SIX SIGMA DAN SEVEN TOOLS
(Studi Kasus : PI Sumber Bahagia)
Madriono Mardiono

Universitas Bina Darma

Reni Laili

Universitas Bina Darma
Keywords:
six sigma, Defect per Unit, Kualitas, defect per million OOportunities
Abstract
Pabrik Industri Sumber Bahagia adalah salah satu pabrik industri yang bergerak di bidang pengolahan kopi bubuk. yaitu kopi shaset cap pohon dan kopi shaset ibu dan anak. Pabrik Industri Sumber Bahagian ini juga berupaya untuk meningkatkan kualitas kopi kepada konsumen serta daya saing dengan pabrik industri lainnya. Permasalahan yang yang terjadi pada industri kopi yaitu terdapat produk cacat  yang mengakibatkan jumlah prodiksi menurun. Oleh karena itu  sangat diperlukan penyelesaian  masalah tersebut dengan mengunakan pendekatan metode six sigma yang terdiri dari lima fase antara Define, Measure, Analize, Improve, Control. Berdasarkan metode six sigma dapat disimpulkan  bahwa kapabilitas kinerja PI Sumber Bahagia memiliki rata-rata tingkat sigma sebesar 5.1 dan kemungkinan kerusakan sebesar 5445,7 dalam satu juta produksi.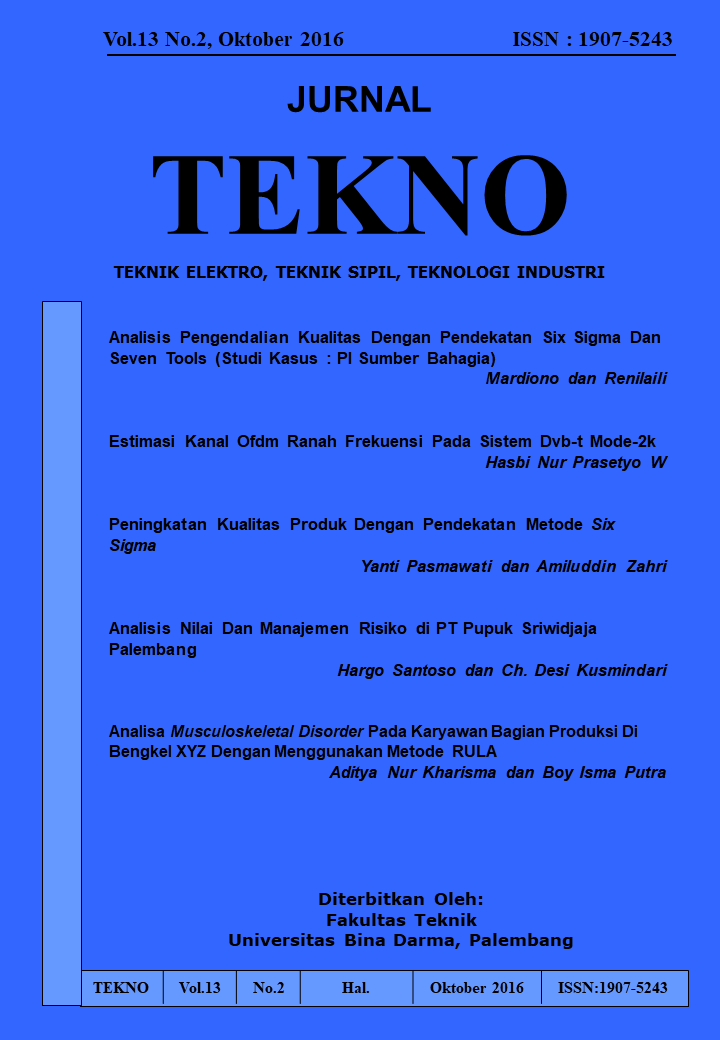 How to Cite
[1]
M. Mardiono and R. Laili, "ANALISIS PENGENDALIAN KUALITAS DENGAN PENDEKATAN SIX SIGMA DAN SEVEN TOOLS", jtekno, vol. 13, no. 2, pp. 1–12, Jan. 2019.
Abstract viewed = 392 times
pdf : 1629 times

Jurnal Tekno by journal.binadarma.ac.id/index.php/jurnaltekno is licensed under a Creative Commons Attribution-ShareAlike 4.0 International License.