Perbandingan antara GAAP Indonesia dan GAAP Italia
Natalis Christian

Serly Angelica

Universitas Internasional Batam

Rachel Tanwijaya
Keywords:
Accounting Standards, OIC, SAK, Indonesia, Italy
Abstract
Indonesia and Italy have been adopting IFRS in their national accounting standards. However, Indonesia's GAAP is different from Italy's GAAP. Hence, financial information users must be educated and understand both countries' GAAP to interpret the financial report. The purpose of the research is to compare Indonesia's GAAP and Italy's GAAP. The research method uses descriptive qualitative analysis. The source of data is based on non-numeric secondary data. The research result shows eight factors that affect accounting development in Italy. There are also differences between Indonesia's GAAP and Italy's GAAP. Those differences are related to financial reports presentation, interests, dividends, goodwill, consolidated financial statements, and inventories.
Keywords: Accounting standard, OIC, SAK, Italy, Indonesia
Abstrak
Indonesia dan Italia telah menerapkan IFRS pada standar akuntansi nasional negara masing-masing. Akan tetapi, GAAP Indonesia dengan GAAP Italia memiliki perbedaan dalam metode pencatatan akuntansi. Oleh sebab itu, untuk dapat memahami laporan keuangan yang disusun berdasarkan GAAP masing-masing negara, pengguna laporan keuangan perlu memiliki pemahaman dan menguasai pencatatan GAAP kedua negara tersebut. Tujuan dari penelitian ini adalah melakukan perbandingan antara GAAP Indonesia dan GAAP Italia. Metode penelitian yang diterapkan merupakan metode deskriptif kualitatif. Data penelitian yang digunakan bersifat data sekunder non numerik. Hasil dari penelitian ini menjukkan adanya 8 faktor yang memengaruhi perkembangan akuntansi di Italia. Selain itu, terdapat perbedaaan antara standar akuntansi Indonesia dan standar akuntansi Italia. Perbedaan tersebut terdiri dari segi pelaporan keuangan, bunga, dividen, goodwill, laporan keuangan konsolidasi dan persediaan.
Kata kunci: Standar Akuntansi, OIC, SAK, Italia, Indonesia
References
Adamo, S., Alexander, D., & Fasiello, R. (2020). Time and accounting in the middle ages: An Italian-based analysis. Accounting History, 25(1), 53–68. https://doi.org/10.1177/1032373219833140
Banca D'Italia. (2021). The 2020 annual report at a glance. In Banca D'Italia. http://www.iom.edu/Reports/2011/Relieving-Pain-in-America-A-Blueprint-for-Transforming-Prevention-Care-Education-Research/Report-Brief.aspx
Cascino, S., & Gassen, J. (2014). What drives the comparability effect of mandatory IFRS adoption? Review of Accounting Studies. https://doi.org/10.1007/s11142-014-9296-5
Charles, R. (2017). The common law and civil law traditions. https://www.law.berkeley.edu/wp-content/uploads/2017/11/CommonLawCivilLawTraditions.pdf#:~:text=The common law tradition emerged in England during,impe- rial powers such as Spain and Portugal.
Dewi, M. H. H. (2019). Analisa dampak globalisasi terhadap perdagangan internasional. Jurnal Ekonomia, 9(1), 48–57. https://www.ejournal.lembahdempo.ac.id/index.php/STIE-JE/article/view/24/16
European Commission. (2022a). Financial reporting. https://ec.europa.eu/info/business-economy-euro/company-reporting-and-auditing/company-reporting/financial-reporting_en
European Commission. (2022b). Italy national education systems. https://eurydice.eacea.ec.europa.eu/national-education-systems/italy/overview
Fadli, M. R. (2021). Memahami desain metode penelitian kualitatif. Humanika, 21(1), 33–54. https://doi.org/10.21831/hum.v21i1.38075
Freedom House. (2022). Italy: Freedom in the World 2021 Country Report | Freedom House. Freedom House. https://freedomhouse.org/country/italy/freedom-world/2021
Gray, D., & Ehoff Jr., C. (2014). Lower of cost or market inventory valuation: IFRS versus US GAAP. Journal of Business & Economics Research (JBER), 12(1), 19. https://doi.org/10.19030/jber.v12i1.8372
IFRS Foundation. (2016). IFRS standard - Application around the world : Italy.
IFRS Foundation. (2017). IFRS standard - Application around the world : Indonesia.
IFRS Foundation. (2018a). Accounting policies and changes in accounting estimates.
IFRS Foundation. (2018b). Financial report filing requirements arount the world : Indonesia.
IFRS Foundation. (2021). IFRS - Who we are. https://www.ifrs.org/about-us/who-we-are/
Ikatan Akuntan Indonesia. (2022). Standar akuntansi keuangan. http://iaiglobal.or.id/v03/standar-akuntansi-keuangan/sak
Iskandar, E. (2018). Peranan akuntansi dalam mengukur keberhasilan pembangunan ekonominegara ditinjau dari akuntanbilitas, transparansi, dan teknologi. Jurnal Warta. http://jurnal.dharmawangsa.ac.id/index.php/juwarta/article/view/3
Kapti, A. S. M. K. (2018). Perbandingan kualitas laba perusahaan antara penerapan standar akuntansi domestik dengan standar akuntansi internasional. Wahana, 21(1), 9–16.
Mousourakis, G. (2015). Codification and the rise of modern civil law. In Roman law and the origins of the civil law tradition (1st ed., pp. 287–309). Springer Cham. https://doi.org/10.1007/978-3-319-12268-7
Ng, K. H., & Jacobson, B. (2017). How global is the common law? A comparative study of Asian common law systems – Hong Kong, Malaysia, and Singapore. Asian Journal of Comparative Law, 12(2), 209–232. https://doi.org/10.1017/asjcl.2017.17
OIC. (2022). Statuto della fondazione organismo italiano di contabilita' (OIC) (pp. 1–10). https://www.fondazioneoic.eu/wp-content/uploads/downloads/2022/05/Statuto-maggio-2022
Ovunda, A. S. (2015). Luca Pacioli's double-entry system of accounting: A critique. Research Journal of Finance and Accounting, 6(18), 132–139.
Pratiwi, N., Shalihatulhayah, A., & Mayasari, D. (2015). The influence of political factors on IFRS adoption. The 3rd Uzbekistan-Indonesia International Joint Conference on Economic Development and Nation Character Building to Meet the Global Economic Challenges, 60–65.
PricewaterhouseCoopers SpA. (2019). Key similarities and differences between OIC standards and IFRS. pwc.com/it/bilancio
PricewaterhouseCoopers SpA. (2020). IFRS and Indonesian GAAP similarities and differences. pwc.com/id
PricewaterhouseCoopers SpA. (2022). Corporate - Taxes on corporate income. https://taxsummaries.pwc.com/italy/corporate/taxes-on-corporate-income
Pushkarova, M., & Nikitenko, O. (2015). Impact of inflation on financial statement. http://dspace.nuft.edu.ua/jspui/bitstream/123456789/20854/1/4.pdf
Sangster, A. (2016). The genesis of double entry bookkeeping. The Accounting Review, 91(1), 299–315. https://doi.org/10.2308/accr-51115
Tahat, Y., Omran, M. A., & AbuGhazaleh, N. M. (2018). Factors affecting the development of accounting practices in Jordan: An institutional perspective. Asian Review of Accounting, 26(4), 464–486. https://doi.org/10.1108/ARA-01-2017-0010
Tasos, S., Stergios, A., & Kleanthis, K. (2018). Classification and factors influencing accounting systems. International Journal of Research in Management, 5(8), 1–7. https://doi.org/10.26808/rs.rm.i8v5.01
UNESCO World Heritage Centre. (2022). Italy. https://whc.unesco.org/en/statesparties/IT/
Valentinetti, D., & Rea, M. A. (2013). XBRL for financial reporting: Evidence on Italian GAAP versus IFRS. Accounting Perspectives, 12(3), 237–259. https://doi.org/10.1111/1911-3838.12008
Valentinetti, D., Rea, M. A., & Basile, C. (2016). Differences between national reporting practices and IFRS for SMEs presentation and disclosure requirements: Evidence from Italy. International Journal of Accounting and Financial Reporting, 6(2), 146–174. https://doi.org/10.5296/ijafr.v6i2.9838
Vokshi, N. B. (2018). The connection between accounting and taxation from the perspective of preparing the financial statements. International Journal of Economics and Business Administration, 6(4), 34–47.
Wahyuni, E. T., Puspitasari, G., & Puspitasari, E. (2020). Has IFRS improved accounting quality in Indonesia? A systematic literature review of 2010-2016. Journal of Accounting and Investment, 21(1), 20–44. https://doi.org/10.18196/jai.2101135
Willmore, A. (2014). The implication of US GAAP and IFRS convergence on American business. In Honor Theses. https://digitalcommons.coastal.edu/honors-theses/19
World Bank. (2022a). Inflation, consumer prices (annual %) - Italy. World Bank. https://data.worldbank.org/indicator/FP.CPI.TOTL.ZG?end=2020&locations=IT&start=2010
World Bank. (2022b). World development indicators: GDP (constant 2015 US$). World Bank. https://databank.worldbank.org/reports.aspx?source=2&series=NY.GDP.MKTP.KD&country=ITA#
Yuesti, A., & Saitri, P. W. (2020). Akuntansi Internasional (P. Kepramareni (ed.)). CV. Noah Aletheia.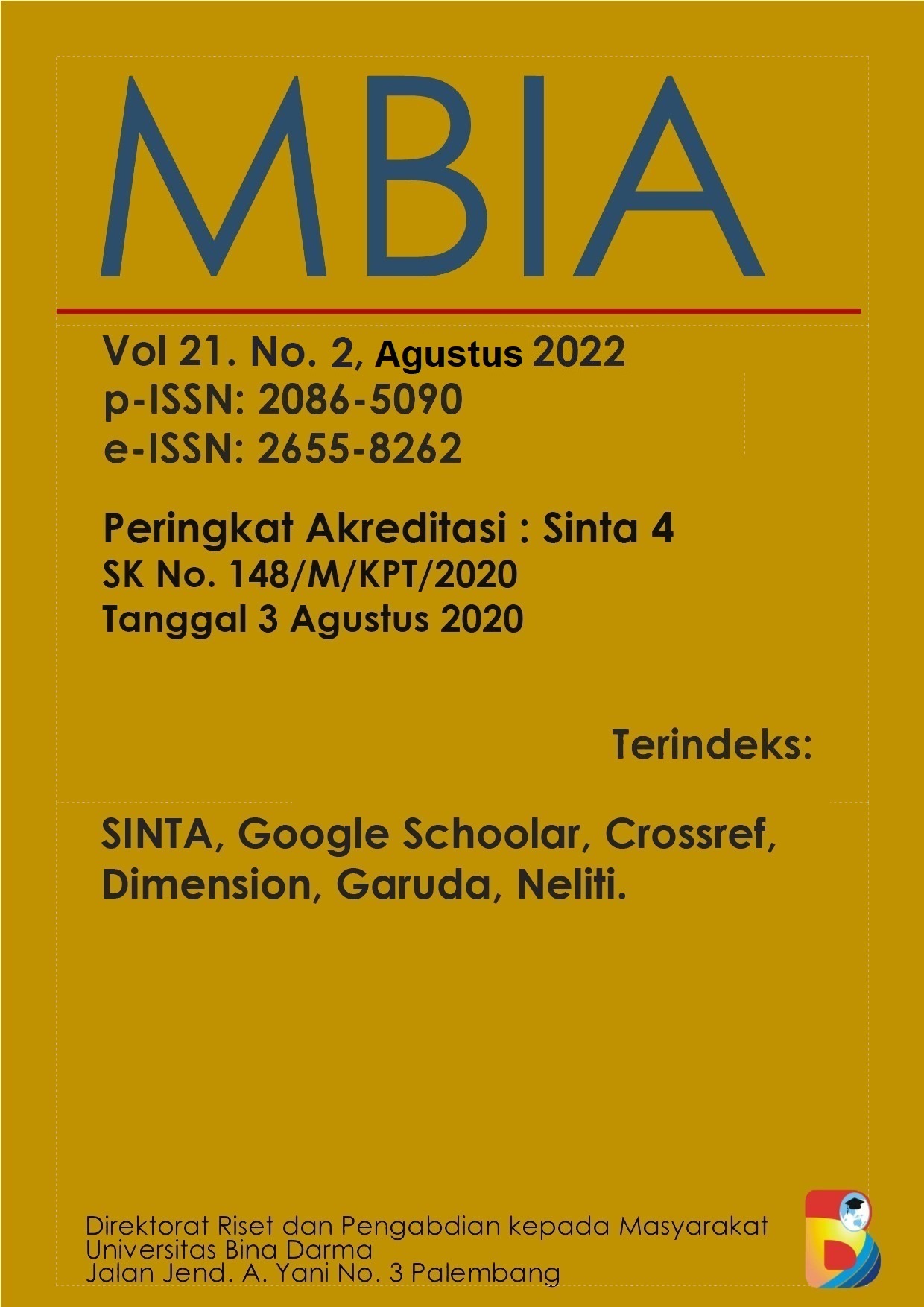 How to Cite
Christian, N., Angelica, S., & Tanwijaya, R. (2022). Perbandingan antara GAAP Indonesia dan GAAP Italia. MBIA, 21(2), 149–158. https://doi.org/10.33557/mbia.v21i2.1781
Abstract viewed = 81 times
pdf : 148 times
Copyright (c) 2022 Natalis Christian, Serly Angelica, Rachel Tanwijaya
This work is licensed under a Creative Commons Attribution-ShareAlike 4.0 International License.
MBIA Universitas Bina Darma Jalan Jend. A. Yani 13 Ulu Palembang

MBIA by http://journal.binadarma.ac.id/index.php/mbia is licensed under a Creative Commons Attribution-ShareAlike 4.0 International License.